We are committed to manufacturing only Eco-Friendly products. Utilizing proprietary fabric developed by EGIS Nanotech.
---
Women make up a large percentage of in-home caregivers. They are often expected to lift, move, or reposition individuals in their care. This can, and does, lead to musculoskeletal injuries. Find out how Patient Lift: (BOEMBA™) can solve these issues.
---
From Doctors, Nurses and Caregivers. Our products have met quality control standards for patient safety and usability.
---
Physical strain accounts for the largest share of workers' compensation claim costs for hospitals, according to the National Council on Compensation Insurance. Find out how Patient Lift: (BOEMBA™) can reduce the occurrence and costs associated with these claims.
---
Patient Lift: (BOEMBA™) device, The Solution to Safer Patient Care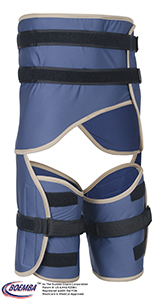 Each year medical and non-medical facilities combined spend tens of billions of dollars on the care of pressure ulcers, complications arising from patient falls, and Workers' Compensation claims. One solution according to the American Nurses Association and the National Institute for Occupational Safety and Health is safer ergonomic practices.
Patient Lift: (BOEMBA™) from The BuddyGuard™ Corporation speaks to these issues. The custom-fit ergonomically assisted medical device resulted from a personal experience faced by Patient Lift: (BOEMBA™) inventor Margarita Clement, Ph.D., MAT, BSN, PHN, while caring for her ailing father. With limited strength in her hands, lifting him and repositioning him became a difficult process and posed the potential of injury to them both. Yet, not moving him meant the likelihood of pressure ulcers.
Clement visualized an easy-to-use device that could not only lift and reposition a patient but could be used to stabilize them while walking. The result was Patient Lift: (BOEMBA™). Constructed from a specialty fabric, which offers anti-microbial, anti-bacterial, and moisture resistant characteristics, it increases the patient's comfort level and privacy, allows easy transference and repositioning, and promotes blood circulation—all properties necessary for the healing and prevention of pressure ulcers.
STERIL 101™ : High Performance Anti-Microbial Coating
Nanomineral Surgical Gowns
Nanomineral Surgical Drapes & Barrier Materials
Nanomineral Wound Care Products
Nanomineral Healthcare Apparel
Nanomineral Clothing for Hospital Patients
Nanomineral Hospital Beddings
Nanomineral Socks for Diabetics
Nanomineral Therapeutic Socks
Nanomineral Sports Support
Nanomineral Adjustable Body Supports
NANOTECHNOLOGY & ISO CERTIFICATION